We offer a wide range of ASP.NET development services and are regarded as one of the top custom Microsoft asp.net development firms in India. You can also hire.Net developers based on the demands and size of your project.
Ready to get started?
With our expert, tailored, and enterprise-grade.Net application development services, you can stay ahead of the competition. To meet the crucial demands of worldwide clients across sectors, our ASP.Net development firm in India blends development skills with cutting-edge technology.
# Our Services
Technology Stack
Why ITMCS is the Best Firm for ASP.NET Web Development
ITMCS is regarded as one of the most reputable ASP.NET application development firms in India for the following reasons.
Comprehensive Analysis
A good analysis always results in a positive outcome. When discussing.NET software development requirements, we make certain to deliver the greatest web app development solution based on your company requirements.
Well-Designed Web App
The design of your web app is the first thing your user notices. Our.NET software development business adheres to the most recent web design trends in order to produce eye-catching and user-friendly designs for your web app.
Mobile-Friendly Web App
Our.NET application development team creates a feature-rich responsive web app for you, complete with a beautiful custom theme, feature-rich plugins, and a mobile-friendly user interface.
ASP.NET End-to-End Development
Our Dotnet web development team offers complete development solutions, from prototype and UI/UX design to final deployment.
Advanced Security and Scalability
We assure optimum site scalability and security by utilizing advanced security methods such as high-security plugins, data encryption, a secure admin dashboard, etc.
High Performance & Speed
Our created website provides incredibly quick user experiences and loads in under 3 seconds, increasing conversions and aiding in Google ranking.
Easy Communication
We make it easy for our clients to communicate with us, they can reach us through several channels such as Skype, phone, and messages, to mention a few.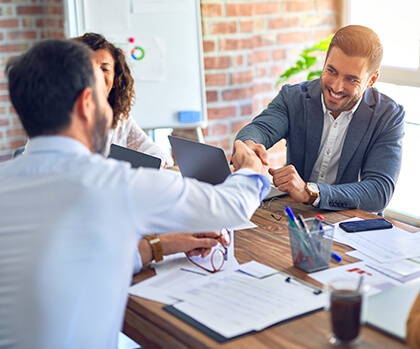 As a leading.Net software development firm in India, we adhere to an agile ASP.Net development approach to assure on-time delivery to our clients. The entire procedure is as follows: